My first step was to address the ill-fitting, 2-pc. jimbaori. The fit of the corresponding pieces on the base figure, while problematic, was nowhere near as bad, and it appears as if the torso shrank signifi- cantly more than the enveloping garment halves during the casting of this bust. I will hasten to add that while "fit" and "casting quality" are in the eye of the beholder, it is one of the primary reasons that
this
beholder has distanced himself from the historical side of the hobby.
As I have already been through this with the base figure, I can honestly say it is much easier the second time around. The torso with its fitted garment is now curing under the lamp.
If all goes as planned, I will have the jimbaori halves cleaned-up by the end of the day tomorrow. That will leave but some relatively minor re-detailing of the lacework along the trailing lateral edges of the visible dou before the torso can be deemed finished.
The next steps will be the molding and casting of the full left arm and the subsequent fitting of the same. Once that is done, I can begin final clean-up before priming--and try not to lose any sleep over how to address the medial seem on the back of the jimbaori(!), as well as plot my painting strategy: as I see it now, the only pre-assembly that will (can!) be done is the attachment of the helmeted head to the torso. As I said earlier. . . questionable design.
Finally, I have begun cleaning-up the shikoro, and have taken the first steps to fitting it to the hachi. As a sidebar, apparently nobody noticed that the built-up crest overhangs the edge of the shikoro. . .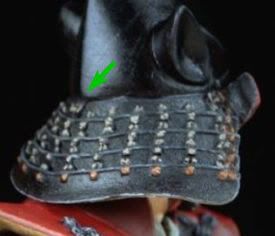 This will have to be corrected with care. . .
FOLLOW-UP - 29.07.2012
. . . The jimbaori halves are well on their way to being "finished". Unfortunately, closer inspection revealed some minor mold shifts that will require additional attention, but otherwise it's a go.